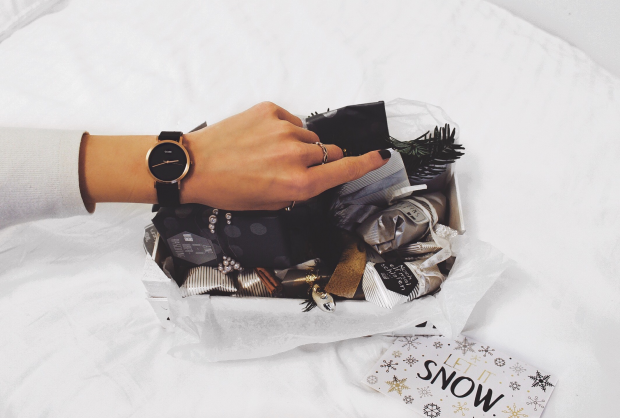 *ANZEIGE/ADVERTISMENT*
All I want for christmas is love….and some small things. Only one more week until christmas and I am about to get really excited. Not only because I love christmas and I am looking forward to see my family again, but also because I need to get the last few presents. For everyone who is like me and doesn┬┤t have all the presents yet….maybe doesn┬┤t even have an idea: Here┬┤s a little guide that might help you.
For your mother:
I like to give my mom something relaxing or snuggeling. For instance a basket with some nice bodylotion, bath salt, peeling etc.
My  favourite brands are Rituals and The Body Shop.
Also  I am really obsessed with knitted things like this blanket or this scarf and I think my mom would love it, too.
For your Sister:
It obviously depends on how old your sister is. if she is really really young she┬┤ll probably like something fun like those socks. (seriously, call me weird, but I love getting socks for christmas, if they are fun)
If she already got a phone, she might like a nice case. I think currently nearly everyone is upsessed with the IdealOfSweden cases, so I think you can hardly go wrong with this.
Another thing you can never go wrong with is jewellery. Especially with a little engraved messages like this this bracelet.
For your father / boyfriend:
Finding something for my father, is always the hardest for mem so if you have any further ideas, please tell me in the comments.
An Idea I really like, that not only my father, but also my boyfriend might like, are engraved whisky glasses like those ones.
For your girlfriend:
The easiest, basic idea: jewellery. But I love it. I think you can hardly go wrong with this, just look at what kind of jewellery she likes or ask her best friend. Again I think something engraved is very personal and nice.
For your bestfriend:
Endless ideas: Jewellery, phosecases, a basket filled with everything you need for a movienight…
My ultimate all-time favourite present:
I like to spend time with the people I love, so I think some of the best presents are activities. No matter whether it┬┤s a city-trip, to Paris, Berlin, New York,… a night in a really nice and relaxed spa or to just go to a nice coffe shop and have a tea or coffee.
What do you think about those ideas ? Do you have any ground-breaking ideas I didn┬┤t mention ? ­čśŤ
XX Celine