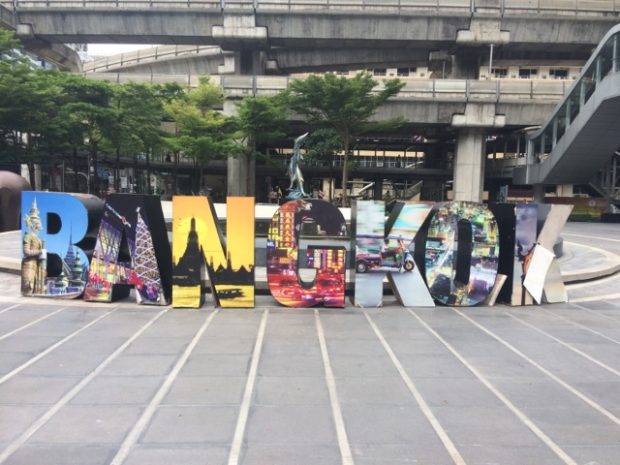 *ANZEIGE/ADVERTISMENT*
Guten Morgen aus dem hei├čen Thailand,
diejenigen, die mir bei Instagram┬áfolgen oder die meinen Blog regelm├Ą├čig lesen, werden schon mitbekommen haben, dass ich im Moment mit meinem Freund durch Thailand reise. Die ersten 5 Tage haben wir in Bangkok verbracht und davon m├Âchte ich euch nun berichten.
Good morning from hot Thailand, 
if you follow me on Instagram or you read my blog regularily, you already know that I currently travel Thailand with my boyfriend. We spent the first 5 days of our journey in Bangkok, which is what I want to tell you about.
Unsere Unterkunft:
Unsere Unterkunft, ein kleines Appartment in einem der ├Ąu├čeren Bezirke von Bangkok, haben wir ├╝ber Aibnb gebucht.
Es liegt etwas weiter von der Innenstadt entfernt, als wir dachten, aber das war nicht weiter schlimm f├╝r uns, da man mit Bahn/Taxi/Tuctuc trotzdem ganz gut angebunden ist und es auch in der N├Ąhe einiges f├╝r Asien-Neulinge zu entdecken gibt.
Our Appartment:
We stayed in a cute little appartment that was located in the outer area of Bangkok. 
It was further away from the city centre than we first thought, but it was okay, because you could easily go there by train, taxi and tuctuc and in Ramkahmhaeng-the area we stayed in- were also many things to do.
Das Appartment selber ist zwar klein, aber sehr hell und sauber. Es liegt in einem der wenigen modernen Geb├Ąude in Ramkahmhaeng, einem Bezirk von Bangkok.
Schon beim Aufwachen hat man eine tolle Aussicht, da die Schlafzimmerwand fast komplett verglast ist und das Appartment im 20. Stock liegt.
The apparmtent itself was small, but nice-looking and very clean. It was part of one of the modern buildings in Ramkahmhaeng.
As soon as you wake up, you already got a great view over Bangkok, since the appartment is located on the 20th floor and the wall next to the bed is made of glass.