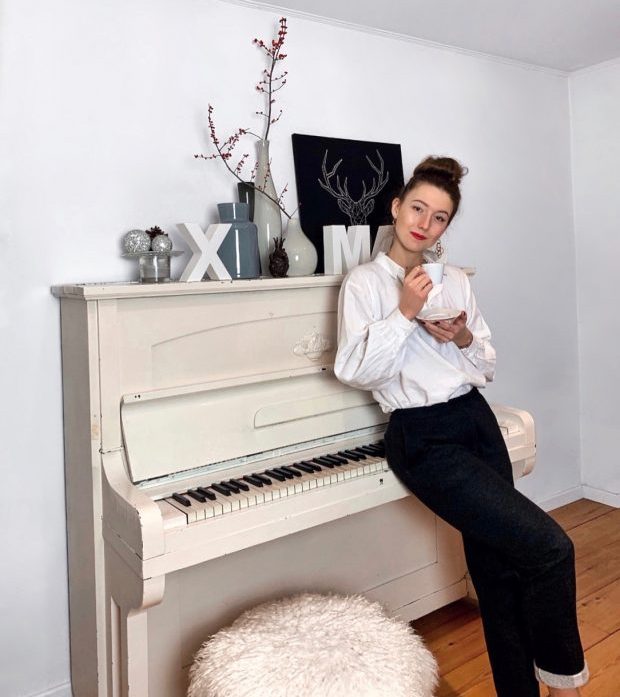 {Anzeige/AD}
Merry Christmas everyone!
I hope your enjoyed the end of the most beautiful time of the year with your loved ones.
Even though Christmastime is stressful, it really is one of my favourite times of the year. It¬īs the only time a year I get to see [nearly] all my family and we spend a holly-jolly time together.
Also when I grew up I realized how much fun it is to get all the christmaspresents together and that it¬īs much more fun to give presents, than to get them. And because of that-because I love to get all the presents together- I want to show you what I got my friends and family. As a little throwack for me and it might inspire one or the other of you- for people you didn¬īt see yet or for other occasions.
Frohe Weihnachten ihr Lieben! Habt ihr die Tage mit euren Familien genossen ? Ich glaube, Weihnachten ist wirklich eine meiner Lieblings"jahreszeiten". Lichterketten, Weihnachtsm√§rkte, der Geruch von gebrannten Mandeln in der Stadt und die Stimmung der Leute √§ndert sich- findet ihr nicht ? Neben dem ganze Stress habe ich das Gef√ľhl, es wird auf eine gewisse Art ruhiger-eben ein bisschen besinnlich.
Auch habe ich festgestellt, wie viel Spaß es macht die ganzen Geschenke zusammenzusammeln. Ich muss zwar jedes Jahr mindestens 10 mal in die Stadt, weil ich wirklich IMMER etwas vergesse, aber ich liebe es trotzdem. Und weil ich es so liebe, möchte ich euch daran teilhaben lassen. Euch ein bisschen inspirieren und neue Ideen liefern.

MY MOTHER
My Mother & Stepfather basically get the same 'Äěthing'Äú every year [might be a little boring- I know]. Their blog with the opportunity to have me changing whatever they want.
But this year I want to give my mom something more special, which is why I got her this Necklace and earrings via Valmano. I think it'Äės exactly her style with the turkis details.
Meiner Mutter und meinem Stiefvater schenke ich eigentlich jedes Jahr dasselbe und zwar ihren Blog f√ľr ein weiteres Jahr und dass ich das Design jederzeit anpasse, falls sie das m√∂chten. Dieses Jahr habe ich meiner Mom zus√§tzlich noch dieses Set aus Kette und Ohrringen von Valmano geschenkt. Ich glaube mit den T√ľrkist√∂nen ist das genau ihr Stil.

MY FATHER
My father set the goal to workout more and told me he¬īd like to have a homegym, which is why I got him this mat. I actually wanted to try it before giving it to him, but I did not manage to do that yet, so he'Äės gonna have to try it and tell me how he likes it. As I understood it'Äės a personal training concept. You get an app who creates a workout routine for you and the mat helps you to do the exercises correctly.
Mein Vater hat sich vorgenommen mehr Sport zu machen [haben wir das nicht alle?]und sagt immer er h√§tte gerne ein Homegym. Deshalb hab ich ihm diese Matte hier geholt. Man benutzt sie zusammen mit einer App, die einem einen Trainingplan erstellt. Ein bisschen wie ein Personaltrainer. Die Matte ist dazu da, dass man die √úbungen korrekt ausf√ľhrt. Eigentlich wollte ich die Matte zuerst ausprobieren, aber ich habe es leider nicht mehr geschafft. Jetzt muss er sie halt testen und mir sagen, wie sie ist :p

MY STEPFATHER:
Besides the blog, my stepfather got a little bottle of polish vodka, to which my boyfriend and I added some mince and lemon spice ourselves. Might be a little weird to give alcohol for christmas, but we learned to do that on an event and though it was such a unique and cool present.
Neben dem Blog bekommt mein Stiefvater eine kleine Flasche polnischen Vodka, die mein Freund und ich selber mit Minz- und Limettengeschmack verfeinert haben. Es mag vielleicht etwas seltsam sein harten Alkohol zu Weihnachten zu verschenken, aber wir haben das vor kurzen bei einem Event gelernt und fanden, dass es eine supercoole und originelle Idee ist

MY SISTERS
As most of you will know, I do have two super cute little sisters (at least sometimes they are cute). Both of them got a super cute bracelet. Furthermore my older sister got a day in L√ľbeck with me and my boyfriend and my younger one got a book she wished for.
Wie die Meisten von euch wahrscheinlich wissen, habe ich zwei (manchmal) s√ľ√üe kleine Schwestern. Die beiden bekommen jeweils ein Armband. Au√üerdem laden mein Freund und ich meine √§ltere Schwester noch auf einen Tag in L√ľbeck ein und die j√ľngere-die leider noch etwas zu jung ist um so einen Tag wirklich genie√üen zu k√∂nnen- bekommt ein Buch, dass sie sich gew√ľnscht hat.

MY BOYFRIEND
I already told you on Instagram but I got my boyfriend two beautiful, personal pictures by Mapiful for his flat. Maps of the town he was born in and the town he grew up in.
Was ich meinem Freund geschenkt habe, hatte ich euch ja schon auf Instagram gezeigt. Er bekommt 2 Bilder von Mapiful. Wunderschöne, selbstgestaltete Landkarten von den Städten, in denen er aufgewachsen ist. Ich finde, dass es ein total schönes und auch persönliches Geschenk.

MY BESTFRIEND
This one I also showed you before. Since my best friend lives Harry Potter (nearly) as much as I do, I made her a chocolate fondue- felix felicis. I am so proud of that idea and to couldn'Äôt find it at the internet. If you reacreate it, I'Äėd love you to send me pictures.
Auch was ich meiner besten Freundin geschenkt habe, habe ich euch schon auf Instagram gezeigt. Da sie Harry Potter (zumindest fast) so gerne mag wie ich, hat sie ein Schokofondue mit "felix felicis" bekommen. Fl√ľssiges Gl√ľck f√ľr alle, die Harry Potter nicht gesehen haben. Falls ihr diese absolut geniale Idee nachmachen solltet, lasst mir gerne ein Bild zukommen ūüėČ


What is your favourite idea from this post ? Or what¬īs your favourite thing to give in general ? I love personal gifts and usually buy something if I see it and it immediately reminds me at a certain person. I even sometimes buy presents a few weeks/ months before. If that doesn¬īt happen, I think spending time together-by going to a special place- is always a gret present.
XX
Welche der Ideen gefällt euch am Besten? Und habt ihr noch weitere gute Ideen? Ich liebe persönliche Geschenke und kaufe Sachen in der Regel, wenn ich sie sehe und sie mich an bestimmte Personen erinnern bzw. denken lassen. Manchmal auch Wochen im Voraus. Sonst finde ich Unternehmungen immer toll.
XX