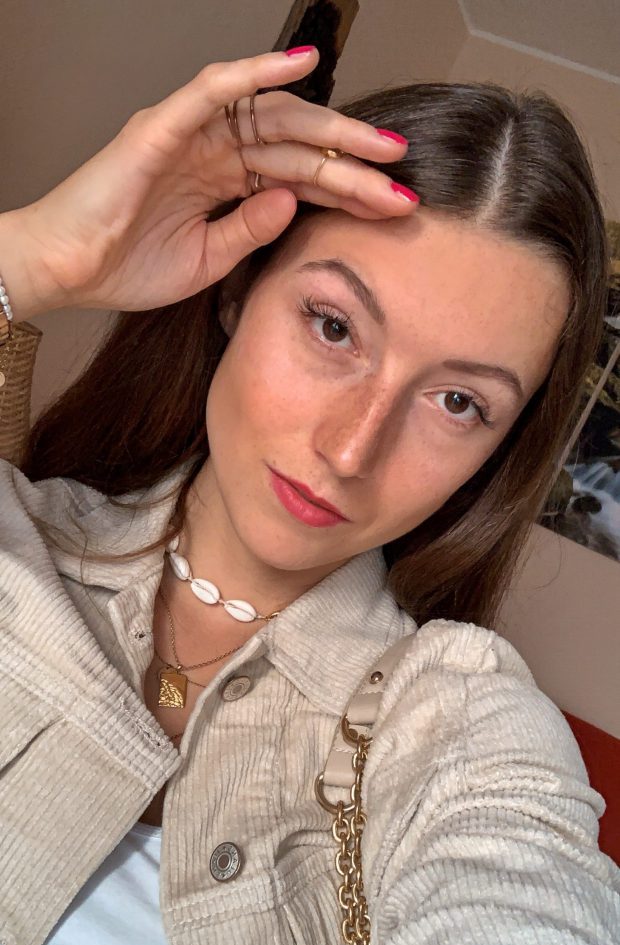 I have to admit that my daily make-up is not very advanced, I┬┤m not a beauty guru and have been relying on most products for years. Still, I get questions about my make-up – especially my lashes – regularily, which is why I want to tell you more about it in this blogpost.
Ich geb┬┤s ja zu, meine daily Make-Up Routine ist nicht besonders fancy und ich bin mit Sicherheit kein Make-up Guru. Da ich aber trotzdem ab und zu Fragen dazu – insbesondere zu meinen Lashes – bekomme, dachte ich, ich fasse euch das Ganze mal in einem Blogpost zusammen.
MY LASHES:
My lashes make the most part of my daily make-up, even though they are permanent ones, so I don┬┤t do them daily. I usually refresh them about once a week – and yes, I do that myself. You can just get a starter kit at Douglas for 17 euros, which I┬┤ll link down for you here.
Even though I┬┤ve been doing my lashes myself for about 2 years now and I feel like I┬┤ve become really good at it, I┬┤m currently thinking about having them done professionally. I┬┤m happy with how it looks, but since I always apply a bundle of lashes on one natural one, it┬┤s not that easy to keep them clean. Fortunately I┬┤ve never had problemy with that and I┬┤d still recommend doing your lashes yourself. But on the long term, I┬┤ll probably have them done by a professional.
Meine Wimpern machen wohl den meisten Teil meines t├Ąglichen Make-ups aus. Ich trage dauerhafte k├╝nstliche Wimpern, die ich ca. einmal die Woche selbst auff├╝lle. Yess, ich klebe meine Wimpern selbst, daf├╝r gibt┬┤s bei Douglas ein super praktisches Starter Kit f├╝r nur 17 Euro. Ich verlinke es euch mal hier.
Nat├╝rlich braucht es etwas ├ťbung die Wimpern selbst zu kleben. Ich mache das jetzt seit ca. 2 Jahren und bin der Meinung, dass es mittlerweile ziemlich gut aussieht. Dennoch hat es Nachteile, die Wimpern lassen sich zum Beispiel nicht so gut reinigen, da man immer bundles klebt und sie nicht komplett durchb├╝rsten kann. Tats├Ąchlich bin ich deshalb sogar am ├╝berlegen sie demn├Ąchst professionell machen zu lassen… mal schaun ­čśë
EYEBROWS & LIPS:
Besides my lashes, I don┬┤t do much. For my eyebrows I use powder (click here) and a template (click here). Yess you read right, I use a template and yess my friends make fun of me because of that, too. But try it and thank me later ;).
Also I┬┤ve had a favourite lipstick for years, which I always use and then buy again. It┬┤s 06 deco rose by Isadora, which you can get here.
Abgesehen von meinen Wimpern, benutze ich im Alltag tats├Ąchlich nur wenige Produkte. Zum einen mache ich meine Augenbrauen t├Ąglich mit diesem Puder und dieser Schablone. Ja, richtig geh├Ârt, ich habe eine Schablone f├╝r meine Augenbrauen. Lacht mich aus – meine Freunde tun das auch regelm├Ą├čig – aber probiert es! Ihr werdet mir danken!
Au├čerdem habe ich auch seit ca. 2 Jahren einen absoluten Lieblingslippenstift von Isadora. Ich verliere ihn regelm├Ą├čig und kaufe ihn mir jedes mal wieder neu, weil ich einfach nicht ohne ihn kann ­čÖé Es ist der 06 Dekorose, den ich euch hier verlinke.
That┬┤s it for my every day makeup routine. Let me know if you want to have an extended version with my routine when I┬┤m super motivated to get ready for partyng or taking pictures !
Das war┬┤s auch schon mit meiner kleinen aber feinen "everyday makeup routine". Falls ihr eine extended version mit meinem make-up haben wollt, dass ich trage , wenn ich mal sehr motiviert bin mich f├╝rs feiern oder Fotos besonders aufzutakeln, lasst es mich gerne wissen.

XX