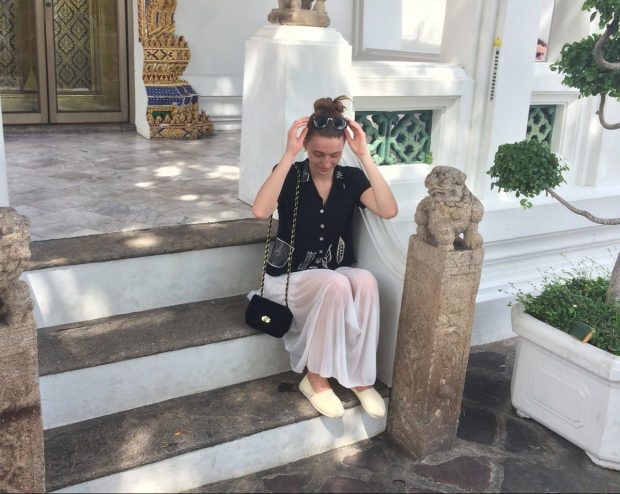 *ANZEIGE/ADVERTISMENT*
Hallihallo meine Lieben,
Wie bereits in meinem letzten Post erwähnt, habe ich in Bangkok 2 Tempel besichtigt und da die meisten Thailänder sehr religiös und auf Anstand bedacht sind, sollte man dabei auf sein Outfit achten.Zeigt man zuviel Haut drohen einem nicht nur verachtende Blicke, einem kann sogar der Einlass verwehrt werden.
Bei fast 40 Grad im Schatten Schultern und Beine bedeckt zu haben und dabei nicht wie der letzte Penner auszusehen ist zwar nicht einfach, aber ich denke es ist mir dennoch gelungen.
Hey cuties,
in my last post I already mentioned that I visited two temples in Bangkok. Since most Thais are strongly religios, you should carefully choose your outfir for such trips. 
If you show to much skin, there will be some despising looks and eventually you won¬īt be allowed to enter religios places.
Nevertheless it¬īs really hard to keep your shoulders and legs covered, when there are more than 40 degrees outside and still look cute.
But still I hope that I managed it.
Ich habe mich f√ľr einen langen, luftigen, wei√üen Roch entschieden und dazu eine schwarze Bluse kombiniert, die locker sitzt und die Schultern bedeckt.
Da wir an diesem Tag viel rumgelaufen sind habe ich meine super bequemen TOMS getragen, die man schnell an und ausziehen kann. (Es ist √ľblich die Schuhe auszuziehen bevor man einen Tempel betritt)
Nat√ľrlich d√ľrfen auch meine Sonnenbrille und eine kleine Handtasche nicht fehlen.
Sonnenbrille hier
ähliche schwarze Bluse hier
ähnlicher Rock hier
ähnliche Espadrilles hier
ähnliche Clutch: hier
I decided to wear a long, light skirt, combined with a dark blouse. Since we walked a lot that day, I wore my lovely TOMS. Also you can esily slip them off, hich is quite good, because they use to enter temples barefoot.
My favourite sunglasses and my little clutch made my outfit complete.
glasses here
similar black aztec blouse here
similar white maxi skirt here
 similar espadriles here
similar clutch: here